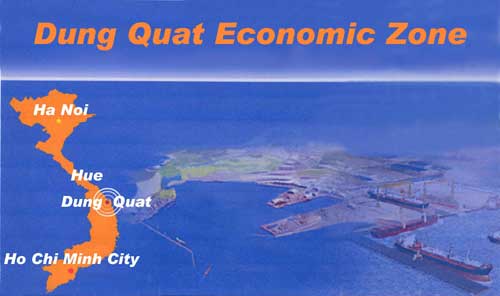 Click on the above image to visit the economic zone web site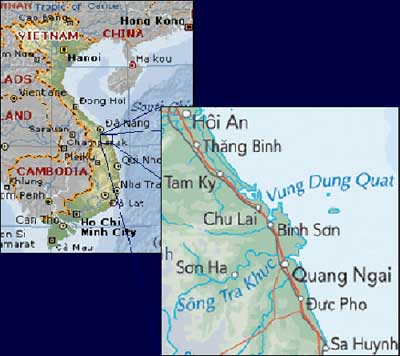 The multi-functional Economic Zone of Dung Quat is designated for diversified investment fields, especially oil-refining, petrochemical and heavy industries (steel mill, shipbuilding, machinery, container, cement, heavy equipment production, auto assembly), consumer goods, export-oriented sectors; bonded zones and financial, banking, tourism activities and human resource capabilities. All efficiently facilitated by the Dung Quat deep seaport, Chu Lai International Airport and the industrial service towns of Van Tuong and Doc Soi.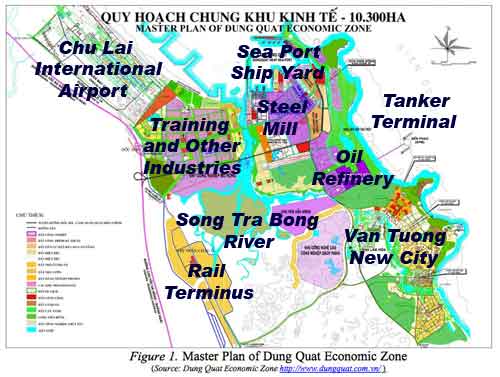 The first phase of infrastructure has been completed and the second phase is now extensively underway with an aim to offer a comprehensively improved environment for in-zone enterprises. Apart from the US$2.5-billion Oil Refinery and the US$300-million Shipyard now under construction, more than 100 projects of the petrochemical, steel, and heavy equipment sectors have been awarded investment license or approval. In the year 2006, the Tycoons Steel Mill project worth US$556 million and the Doosan-Vina Heavy Industrial Complex Project worth US$260 million have been licensed to be invested and implemented in Dung Quat, both are 100% foreign-invested projects. It is projected that by 2010 the combined registered capital of Dung Quat based enterprises will reach approximately US$5.5-6 billion.
Dung Quat Sea Port

Dung Quat Oil Refinery

Chu Lai International Airport

Infrastructure Projects Continue
With the concept of Dung Quat as the driving force of Central Vietnam's economy in mind, the nation's Government has granted Dung Quat with the most favorable regime of investment incentives characterized for an open economic zone, in terms of land, taxation, banking, customs, and exportation/importation ...
Dung Quat Hospital

Vocational Training Complex

Students open the Vocational School

Electricity Class